Rally Fun
---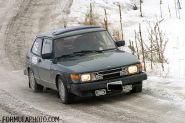 The Green Monster in the garage
There's a creature in my basement that hungers for my free time and attention. Read the SaabBlaag to find out what's happened recently to tame the beast.
Rally events and photos
2007
2006 events
Here's what's happened:
Some 2005 updates
2005 was a busy year:
No Alibi 2004
The premier gravel rally in Washington state started in Ellensburg, overnighted in Clarkston and returned to Ellensburg the next day. This year Marvin and I worked the event rather than competing. As we expected, the workers have at least as much fun as the competitors. TSD sections near Dayton and Clarkston had some of the most amazing scenery and the best roads we've seen. We worked as the sweep vehicle in the Blazer. Other TeamD members worked the event as well. We managed to get pictures of almost all the cars on the second day, as well as some shots of some of the roads. Never broke out the tow strap, which was good for the rallyists. Thanks to Recovery Gear for the tow strap and hardware just in case! Check out the Sweep car pictures here.
2004 Alcan Winter Rally
Ooh boy! This was the trip of a lifetime. Driving north of the Arctic Circle in February was a blast! Jim and I did this in the WRX with our friends from TeamD. You can read all about our adventure on the Team Alcan web site. Also, I have my photos available from days 1-7 and days 8-end.
2003 Thunderbird Rally

Our first time in what is described as one of the most challenging TSD rallies in North America. The Thunderbird Rally was not only great fun and an experience builder for us, but an opportunity to see how some of the best TSD teams deal with the ice, mud and snow of central British Columbia. This rally began in Merritt, BC on February 15, travelled to Kamloops for the overnight and returned to Merritt the following day. Eric and Steve had an impressive showing in the BMW iX (7th overall) while Jim and Dan dumped the computer in the WRX before the start to compete in Paper class, finishing 45th due to Dan's encounter with a ditch on day 2. No damage, but the delay caused them to skip a section, resulting in a high score. 56 cars began this event, the largest field we've yet seen. Not many photos, but plenty of great memories.

2002 Totem Rally

November 16-17, 2002.
A brisk two-day TSD touring rally in central British Columbia, the Totem Rally was our first event north of the border. Three of "our" cars competed: Jim and Marvin in the WRX (3rd in Calculator class), Eric and Steve in the BMW (3rd in Unlimited), and Dan and first time new navigator Steve Wiper in the "Big is Beautiful" Blazer (2nd in Calculator). If you don't mind lots of mud, big smiles, and a little snow, check out the photos.
2002 The Road Not Taken
August 10, 2002. This event in the Coast Range of Oregon was an exciting SCCA National Touring Rally. We didn't get many pictures, but had fun competing in Limited (Equipped) class and Marvin did a great job in the right-hand seat, helping us nab 3rd in class.
2002 No Alibi

No Alibi was held June 1-2, 2002. The Ungainly Red Beast, a 1994 full-size Blazer, was selected as the vehicle for this event. Starting at Snoqualmie Pass the No Alibi course wound through the scrub and coulees of central Washington to Spokane where we stopped for the night. The next day had us travelling through the Palouse region, back into some of the coulees of Day 1, up a slightly nervous hill climb and down into Wenatchee for the end. Speeds were brisk and the scenery was (usually) great. A very well organized event and definitely something we'll do next year. My pictures of No Alibi are here, and the official web site with results, stories, and more photos is also available.
2002 Raindrop
Raindrop is a gentle touring rally held by Rainier Auto Sports Club. Held on April 28, it began in Tacoma, eased through Gig Harbor and on to the Kitsap Peninsula. Spectacular scenery and unusually nice weather made for a great day. Just pre- and post-event photos are available.
2002 Rally of Monte Carlo (WRC)
Wow, what a trip. These are the big boys, driving incredible cars on some of the most outrageous roads you'll ever see. A trip report is in process, meanwhile, take a look at some of the images. (Warning -- a very large page of thumbnails)


---
October, 2001 TSDs

The Night on Bald Mountain rally is a mix of Monte Carlo and regularity stages at brisk speeds on gravel. The full size Blazer is not the car of choice for this kind of event but we managed to keep it on the roads and make it to the end. One team, however, was not that fortunate.

In a slightly more conventional car (the Passat wagon), we did quite well at the October Friday night rally in our last stint in Novice class. Thanks to Bob, who on his second time navigating, helped nab the award for top novice score.
---
Wild West, September, 2001
Jim and I worked as road marshals at instruction #69, a tight hairpin turn that afforded some decent photos and video. Here are some of the better shots I got before the camera succumbed to the dust:

Jim put a great gob of photos from that day up on his site as well.

Results of the Wild West ProRally are at the Northwest SCCA web site.
Rally Links
Tell us where you're from:


January 2007
Dan Comden
Seattle, WA U.S.A.
Email -- dan*@*comdens.com (remove the asterisks around the "@" symbol)